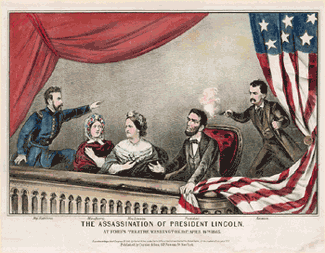 The investigation of Mary Todd Lincoln's cloak begins with a return to the scene of the crime.
A reexamination of the Lincoln assassination opens a window into Civil War America. Hundreds recalled details of the fateful night, just as the assassination of John F. Kennedy is indelibly etched in the memories of many contemporary Americans.
The volume of the historical assassination record is staggering.
Secretary of War Edwin Stanton began deposing eyewitnesses even as the president lay dying. Collectors hoarded letters, diaries, and memoirs describing the tragedy and its aftermath. Testimony from the trial of the conspirators charged with Lincoln's murder was published daily.

Daily newspapers achieved unprecedented circulation levels during the Civil War years as Americans moved from farms to cities. Inexpensive illustrated books on the assassination appeared within six weeks, including a German version for the substantial immigrant population. Families pasted illustrations from popular weekly journals and the new carte de visite photographs in their parlor albums.
Civil War era publications and photographs,including Frank Leslie's Illustrated Newspaper,The Trial and Execution of the Assassins and Conspirators, Harper's Weekly, and a carte de visite of actress Laura Keene.
Letter from Francis George, tenant at the Petersen's boarding house, May 5, 1865 (left), and diary of Frances Owens, a school teacher who sang at Lincoln's funeral in Chicago, May 1865 (right).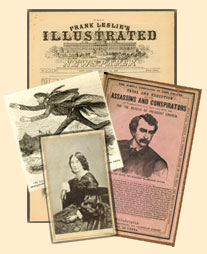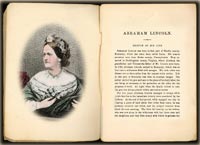 The story of Lincoln's assassination was arguably the first mass-distributed media sensation, fueled by expanding urban audiences and recent technological developments in printing, photography, and rail transportation.
RETURN TO THE SCENE OF THE CRIME
A History of the Lincoln Assassination
Overview
An Evening at Ford's Theatre Setting the Stage for the Assassination
Vigil at the Petersen's House Tragedy at the President's Deathbed
The Earthly Remains The Assassination's Aftermath
The Assassination of President Lincoln. Lithograph by Currier & Ives, 1865 (ICHi-22121).